The Power of Visual Communication (my lesson from the DS106 dailycreate)
A fascinating thing happened to me in this assignment. Perhaps it was a coincidence? Perhaps it was and illustration of the power of images in subliminal marketing…
It all started out as a fairly straightforward task for the #dailycreate from April 5, 2014. Link to original assignment here. Here's the assignment:
We're all used to seeing pizzas, but generally only in restaurants and our homes. We may even occasionally see them at pizza farms. But it's not often that we get to view elusive wild pizzas before they are harvested by hunters. Thankfully, Jonpaul Douglass, a photographer in Los Angeles, gives us a glimpse into this mysterious world through his series Pizza in the Wild. (via Neatorama)

Douglass uses real pizzas, but for this Daily Create, you are welcome to photoshop a pepperoni pizza into an unexpected wild place…
I briefly looked through the images that Douglass posted, and then I went on my way to tackle the assignment.
My process was fairly straightforward. Look through my images, and find one that might be interesting. I thought the Peacock was unique. Use Flickr to find a pizza I could use. I took @cogdog's advice and did a Attribution/Noncommercial/Sharealike search on Flickr. Found an image with a nice pizza. (Note: when I download this image, I also grabbed the attribution information on it, such as the license, link to image, and link to Flickr user, and put this in a Word document.) I then had to download GIMP, a free, open source, image editing software from here. I used Youtube to figure out how to trace out the pizza from the one image and add it to the other, which was simple enough with a basic Youtube search to use the Lasso Tool. I then had to do another Youtube search on how to resize the pizza (found that this is accomplished with the Scale tool. Finally, I exported my image to a .png and uploaded it to Flickr.
Now, here is where a fascinating thing comes into play. I finished my assignment, and felt great about. It was unique. I felt good about my new image skills. My product met the goals of the dailycreate.
Now, here is where my bubble burst. I was sharing the Pizza in the Wild website with someone to explain the assignment, and I came across this: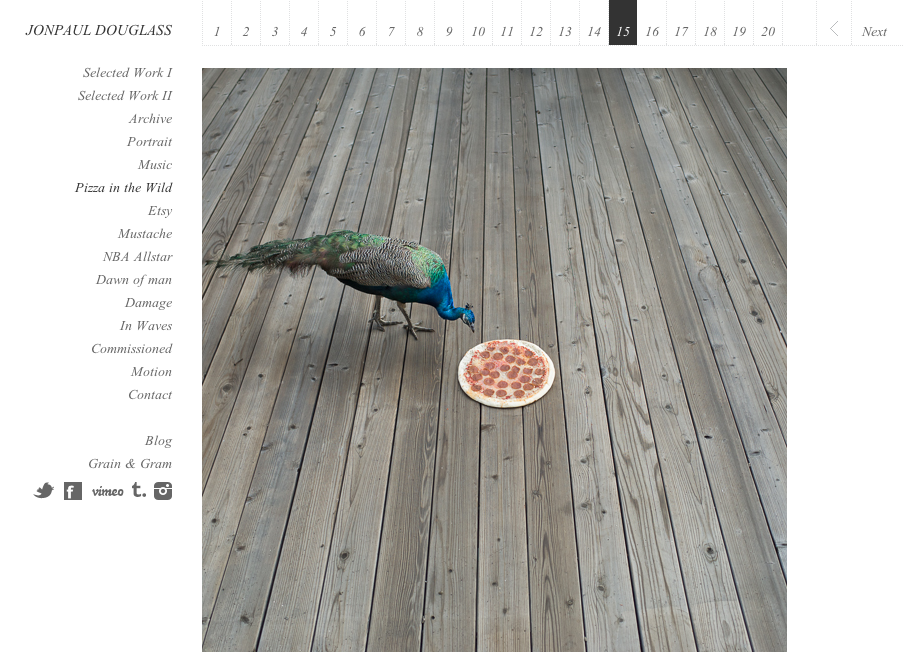 How could this be? I could not remember seeing this image on JonPaul's website.  I sat there, confused. What had happened?
Reflecting on what had happened, I began to think about  the power of visuals in idea making, and decision making. Is it possible that I had seen this image and subliminally recalled it when I saw my picture of a peacock and it made it seem like a good idea? Can one image impression have this kind of impact on our thinking, and on our decisionmaking?
Then I remembered this video:
https://www.youtube.com/watch?v=ZyQjr1YL0zg
This is why advertising works. This is why companies create logos. This is one of the reasons why visual communication is so important in our society. If you can create a visual, and can put it in front of someone, you can influence their preferences and decisionmaking and familiarity. This is why it is so important for students to build their skills working with images, and to understand their impacts, not only on them, but on society. Call it visual literacy, visual communication, marketing, advertising, etc. This aspect of visual influence is something we all need to be aware of. The advertisers are using this on us EVERY DAY.
And I had just used this on MYSELF, unknowingly.
Another #dailycreate, and another lesson in the power of images. Mind blown.